Crafted for high-quality, NFT Collections
You give us the details, and we help you to code the smart contract and launch your NFT collection easily.
Ambition implements the latest decentralized standards





Process
The fastest and easiest way to launch your NFT collection.
You can use Ambition to launch your NFT collection. Set the collection size, name, and token symbol for your smart contract.

Choose your blockchain. After you configured your smart contract, launch on a blockchain of your choice.

List your NFT collection on Opensea, Magic Eden, or any third-party marketplace to receive the benefits of secondary sales.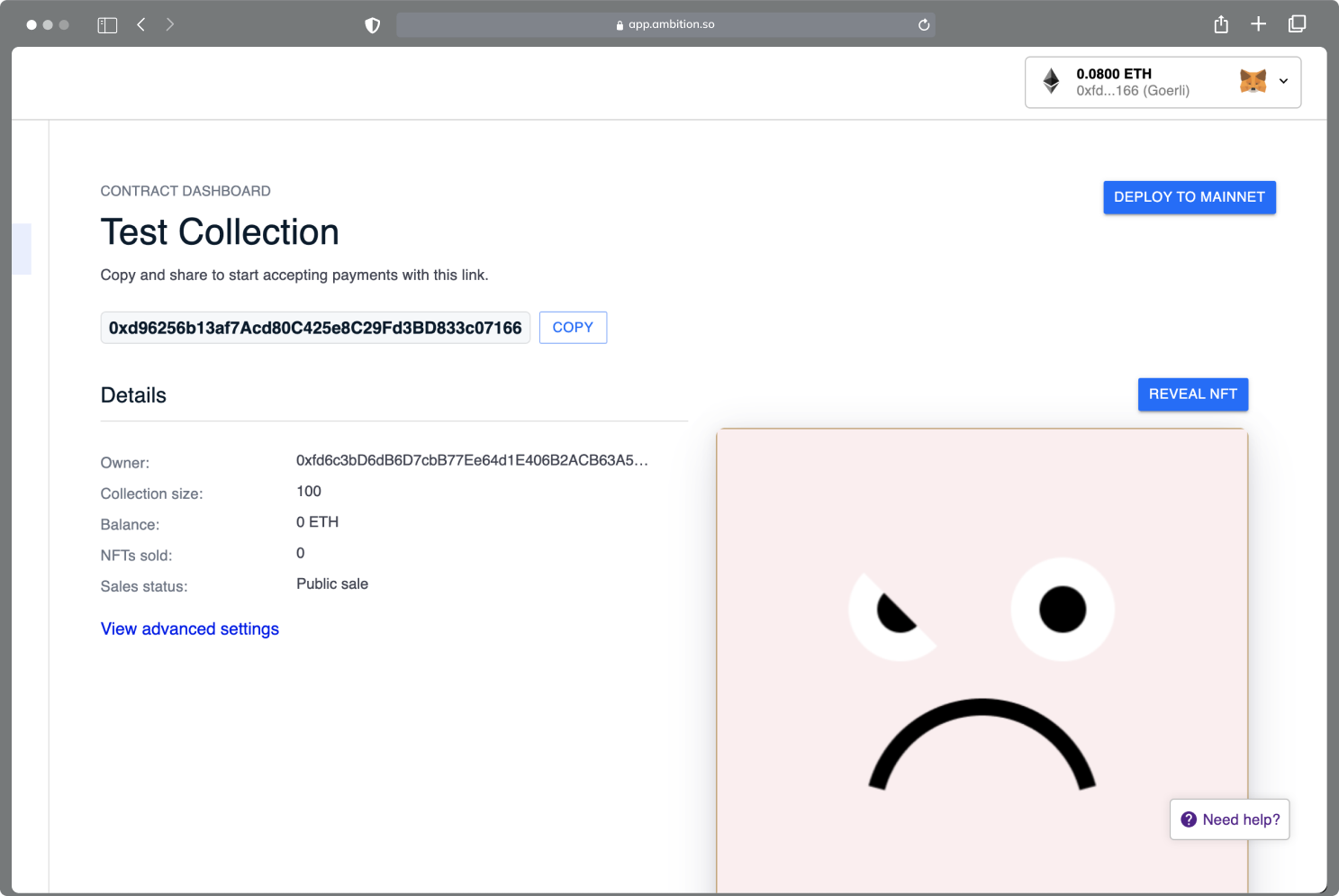 Features
Deploy ERC-721A on Ethereum
Deploy the latest, most optimized and advanced contract on Ethereum today! ERC721A is an implementation of IERC721 with significant gas savings for minting multiple NFTs in a single transaction.
Surprise your community with a hidden NFT, then reveal on a date determined by you!

Mint multiple NFTs for essentially the same cost of minting a single NFT.

Sell your minted NFTs on Opensea
Start selling with Candy Machine NFT
Launch an NFT using Metaplex's Candy Machine. The Metaplex Protocol is powered by a strategic partnership with Solana Labs.
Unleash the full power of NFTs
Everything you need to convert, engage, and retain more users.
2,000+
NFT projects launched
Guides
Learn the blueprint for launching a successful NFT collection
Our guides provide step-by-step instructions and insider tips to help you bring your unique vision to life. From marketing to minting, our comprehensive guides cover all aspects of the NFT creation process, giving you the knowledge and confidence you need to make your collection a success.
"I launched using the Ambition and all went smooth! Now after mint out, we have been funded directly from NounsDAO to develop the project!"
@bancasella.eth
Stoned Nouns, sold out NFTs
Create a professional NFT collection tailored to your unique vision.
From beginning to launch, we're here to support you every step of the way. Sign up today and join the million others who have successfully launched their NFT collections